Qualified Local Engineers
AKM Aerials Bristol are also SWAH qualified (safe working at heights) to work on your property professionally and have full liability insurance for your peace of mind.
Here is a perfect example of how we can feed all your CCTV cameras to one viewing screen, wall mounted and neatly done. This particular screen is mounted in a kitchen however the choice of where you view is completely down to your own personal preference
Here is an example diagram to show just how we can hard wire your home devices and connect virtually everything to your Internet connection. Hard-wiring is a preferred option to WiFi when you are looking for a strong reliable Internet connection that never falters.
Once your TV is wall mounted, just sit back and relax, the endless entertainment available be it through FreeSat, Sky, Freeview or the internet. Our customers that have this done quite often wall mount their surround sound speaker set-ups too.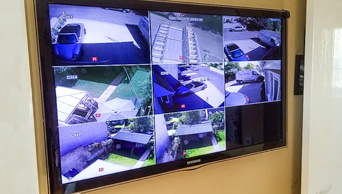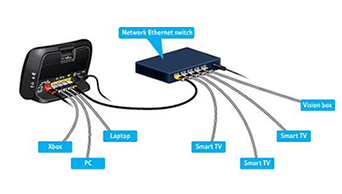 We pride ourselves on our industry beating 5 year guarantee which is further enhanced by the CAI who provide a comprehensive 12 month guarantee on all installations completed by us.
The owner of AKM Aerials is a licensed CAI Plus Member ( Confederation of Aerial Industries)
To contact us about CCTV installations in Bristol please call us on 01173 350832 or 07825 913917
or email us on info@bristolaerials.co.uk